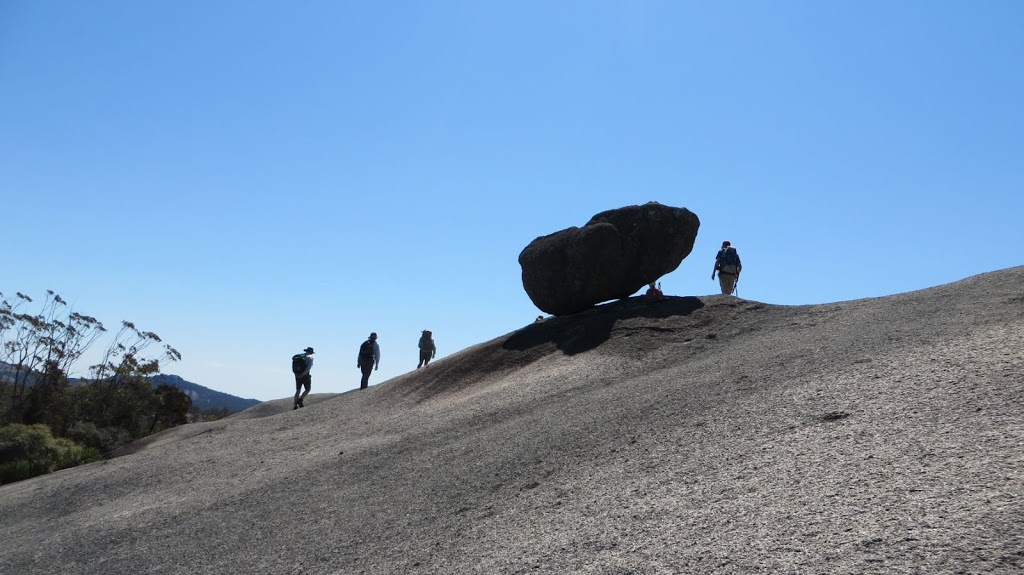 This weekend it was time for the last planned bush walk of the year. This time we travelled out of our backyard to Girraween National Park on the Granite Belt and made a weekend of it. Teresa of Horizon Guides lead us again.

This is what we were expecting:
Walk 13: Saturday: Local short walks from campground. South Bald Rock (Girraween NP) 19km return 7 – 8 hours (130m ascent) Easy – Moderate.

Date: Saturday 14th (arrive by lunch to stay overnight) Sunday 15th September

Description: Spring in Girraween is glorious! After settling into the campground we can take any number of walks close by and find plenty of interesting features and abundant wildflowers. Our final hike for the year takes us to the far SE part of Girraween NP a few hundred metres from the border. The trailhead is on the Mt Norman Rd so after packing up camp and the cars there is a 40 minute drive to start. The walk takes us along fire trails through eucalypt forests and moist gullies and past several granite domes until the rock slabs of South Bald Rock almost meet the track. From here it takes about half an hour to climb up the slabs, finding our own way to this remote summit (approx. 1250m). Expansive, spectacular views await us on the summit. Though it's not a difficult walk it is quite remote so we should have it to ourselves.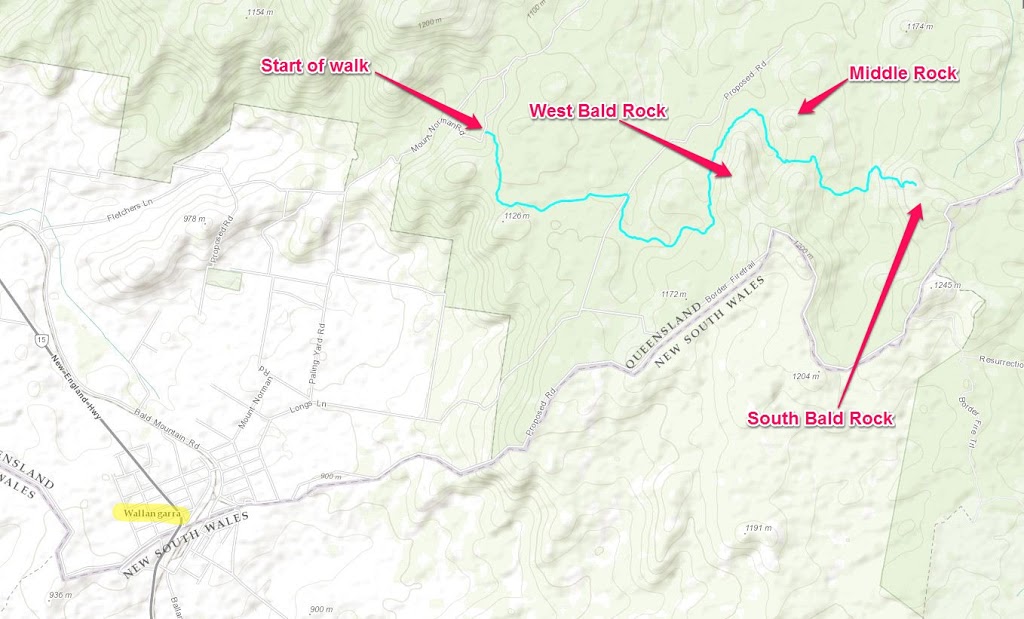 The route of our main walk in blue – Mt Norman Rd to South Bald Rock
We arrived at the Bald Rock Creek camping area mid-afternoon on Saturday and proceeded to set up camp. We had a secluded little area all to ourselves which was great as the nearby Castle Rock camping area was full of bush walkers from Bushwalking Queensland Inc. on their annual pilgrimage.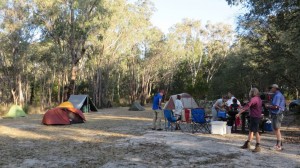 The camp is set up, time for a cuppa
After setting up, we had a cuppa and a bit of a chat before we set off on one of the short walks from the camp ground. We walked along Bald Rock Creek to the Junction with Ramsay Creek. It was about 3.7km return so a nice stroll.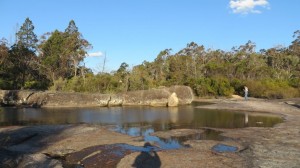 The creek below the camp ground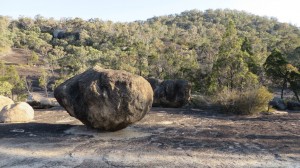 Boulders everywhere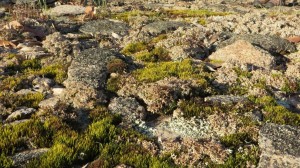 Moss on the rocks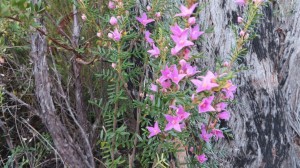 Lovely Boronia (Boronia amabilis)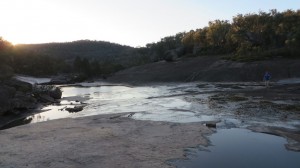 The Junction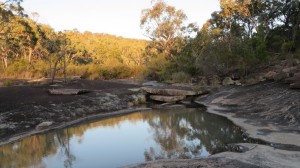 Looking up Ramsay Creek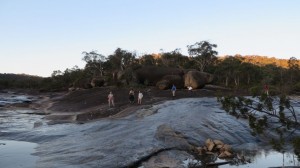 Bald Rock Creek on the left, Ramsay Creek on the right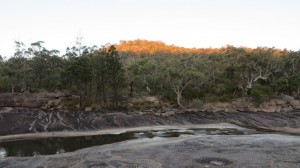 The setting sun just touching the top of this hill
We made it back to camp just on dark. The weather forecast was for possible storms however the sky was clear and the moon and stars shone through clearly. The wind dropped as it got dark and it was a pleasant night, not too cold at all. We had our meal and before long we were in bed.
The following morning I was up at 5:30, had a quick shower then we had breakfast, packed up and were ready to leave the camp ground at 7:30. We drove to Wallangarra where we left some vehicles before continuing to Mt Norman Rd and the start of our walk. We started walking at 8:20am.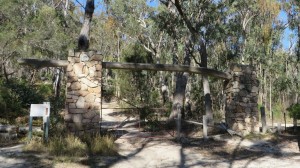 This gateway marks the start of our walk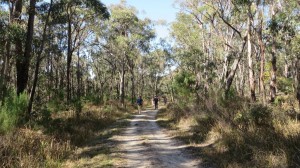 Most of the walk was easy going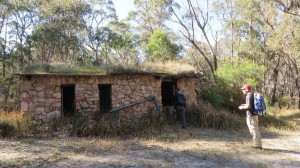 This stone house with a sod roof would have been someone's dream once upon a time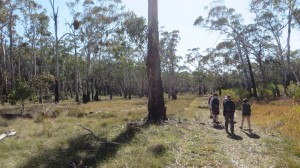 There were open areas to traverse as well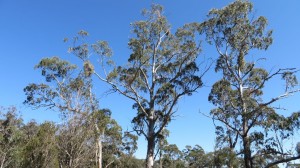 Magnificent trees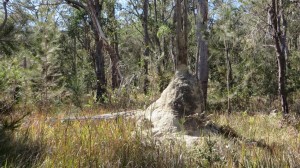 Termite mound engulfing an old stump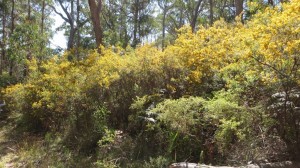 A wall of yellow…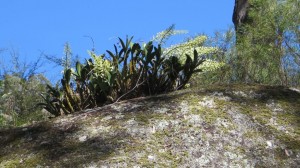 This one is flowering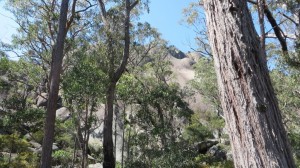 That's West Bald Rock behind the trees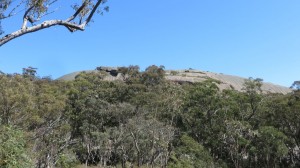 I think this is Middle Rock
Most of the walk this far was easy though long. We walked along slashed fire trails with much of it in dappled shade so it was quite pleasant. Then we got to base of South Bald Rock. This was the bit that tested my legs. It was quite steep with a couple of false promises of the summit on the way up. The breeze was quite cool gusting over the rock so after a couple of minutes at the summit we descended part way down for some lunch and a chance to explore around some boulders.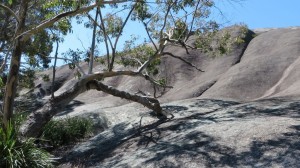 Here we are – the bottom of South Bald Rock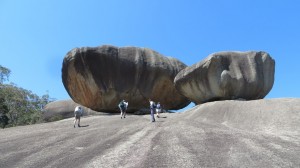 No this isn't the summit, it's only part way up…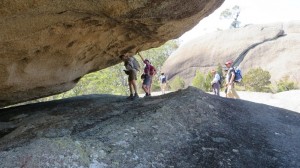 We were dwarfed by the size of the rocks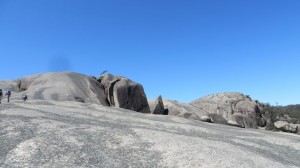 Now this is the summit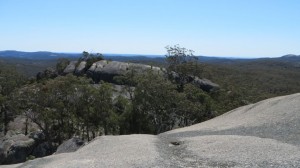 Stunning views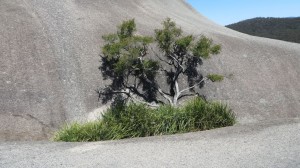 These little gardens were all over the rock
Lunch time
After lunch we returned the same way we came. It was a much quicker trip this time, we did the return trip in about an hour and a half. I think everyone was feeling their legs towards the end of that walk.
A graph of the elevation of the return trip – South Bald Rock summit to Mt Norman Rd
We got back to the cars around 3:15pm so we were walking for seven hours (including stopping for lunch). Then we had a two and a half hour journey back to Boonah – some people travelled for another hour or so back to Brisbane.
Once home I unpacked, had a shower, had something to eat and was in bed very early. It was a great trip but blogging about it would have to wait another 24 hours. Now to consider what I can do while waiting for next year's walks to commence…